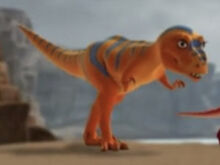 Dad's Day Out is the 76th episode of Dinosaur Train.
Synopsis
Buddy, Tiny, and Mr. Pteranodon join Annie Tyrannosaurus and Leroy Lambeosaurus and their dads for a Dads' Day at the Big Pond. It's all fun and games until it starts to rain, and they all have to take cover in a cave they've never noticed before.
Characters
Main Characters
Second Characters
Minor Characters
Background
Locations
Time
Educational Objective
The weather is unpredictable. No matter where you are or what you are doing, if you enjoy the company of the ones you are with you will always have a good time.
Community content is available under
CC-BY-SA
unless otherwise noted.