Hi everybody!!! Today I bring you a new series: The World Upside Down. This series is special: you can participate in it. There will also be characters in the series Dinosaur Train.
What is The World Upside Down?
The world upside down is a series on the Dinosaur Train characters are teleported to another dimension in which the names are different and genders are reversed. Users who join your friends will be history. There will also be an enemy: Peeper.
What is needed to get into the series?
Image
Character Name
History (optional)
powers
weapons
What better given to your character and what worse (optional)
Characters
Main characters(Posts of users: 2)
Mannie(reversed gender of Annie)
Den(reversed gender of Don)
Tiky(reversed gender of Tiny)
Riny(reversed gender of Shiny)
Bunny(reversed gender of Buddy)100px
Gilbrat(reversed gender of Gilbert)
Lill(reversed gender of Lilly)
Second characters(Posts of users: 5)
Minor characters
Characters of users
Irenuca2003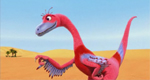 Name of character:Badlerie. Powers:The water, the plants and the fire. Weapons: All the weapons.
History
(Buddy and Badlerie are talking ...)
Badlerie:Buddy loves Annie
Buddy:NO
Badlerie:YES
Buddy:NO
Badlerie:YESSSSSSSSSSSSSSSSSS
Buddy:NOOOOOOOOOOOOOOOOOOOOOO!
Badlerie:YES!!!!!!!!!!!
Buddy:OK,I love Annie
Badlerie:WOWOWOWOW
Annie:Stop STUPID Badlerie
Badlerie:Stupid YOU
Badlerie:Gilbert LOVES Shiny
Badlerie:Tiny LOVES the flowers
Tiny:WT...
Badlerie:No say that word Tiny, NO say that word
Tiny:OK
Don:LA LA LOO
Badlerie:Shiny
Shiny:What?
Badlerie:You loves Gilbert?
Shiny:Yes
Badlerie:Don
Don:What?
Badlerie:You loves Lilly?
Don:Possibly
Badlerie:Annie
Annie:What?
Badlerie:You loves Buddy?
Annie:Yes
Badlerie:WOW I success with all
Buddy:you know everything so success it with everything
(soon more)
Community content is available under
CC-BY-SA
unless otherwise noted.